Family Weekend
---
2020 Family Weekend Update:
The annual tradition that brings students and their loved ones together on campus that was originally scheduled for Oct. 2-4, will be postponed.
First Year Experience and the Pegasus Parent Program will offer multiple engagement opportunities this fall for families.
A Word from the Parent Council Chair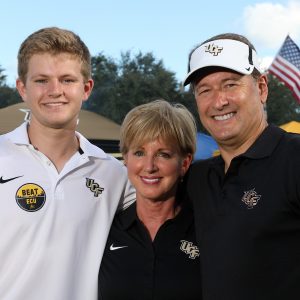 Dear Parents –
I care deeply about lots of things at UCF. Number one being my status as a proud UCF Parent of a junior studying mechanical engineering. Another is athletics — I hold season tickets to Knights football and basketball, and I enjoying tailgating as a way to spend time with my family. So naturally, Family Weekend is one of my favorite times to visit campus along with my fellow UCF Parent & Family Philanthropy Council members.
There's nothing quite like the fun and electric atmosphere of this UCF tradition. I encourage you to experience it for yourself while building some new memories with your family.
If you're interested in becoming an active part of UCF year-round, we love welcoming new members to the council. Please connect with our university contact, Annie O'Donnell, to learn more about our group and the work we do to enhance the student experience at UCF for all Knights.
Sincerely,

Roslyn Burttram P'20
UCF Parent & Family Philanthropy Council Chair